Warning: Spoilers Inside.
What if the Goonies ended up in the movie Chronicle, gained superpowers that included Iron Man Armor and giant Transformer-esque robots based on prehistoric creatures that in the end form a Voltron?
THIS:
This is what you get.
And a Movie Adaption of this show:
has no business being as GOOD as 2017's POWER RANGERS is.
We start the film introduced to the Ranger(s) during the The Mesozoic Era, as they make their last stand against a villainous Green Ranger who has brought the team to the brink of decimation.  We meet Zordon, an alien warrior and leader who is on his literal last leg as this villainous Ranger stands over him, ready to deliver a deathblow.
Then, a meteor hits.  I am not quite sure if they insinuate that a intergalactic battle between Rangers brought forth the end of the dinosaurs, but as a continuing trend throughout the film, these details don't really matter.  This story is about teamwork and the characters that populate that framework. So logic obviously takes  back seat to heart and character development.
Fast forward to the modern age and we meet Jason Scott (played by Dacre Montgomery), the inevitable and eventual team leader destined to wear Red, who is in the midst of a prank with what I believe to be the movie version of Bulk & Skull from the original series.
I can't confirm this one way or another, but here I am aiming to believe and stand by this theory.  Won't matter, because these two aren't seen or heard from again, not even during the detention scene where Jason ends up, swiftly after botching his get away from the police after said prank so awry.  And it doesn't matter, it's not their story either.
Here in detention Jason immediately makes friends with an ultra focused, socially awkward ('On the Spectrum' as he self proclaims) kid getting picked on.  Jason full on PIMP-slaps this bully before proclaiming 'That's weird Right'?  Which makes for a nice call back moment by the film's end battle scene.  This is Billy Cranston (played by RJ Cyler), boy genius and eventual Blue Ranger.
While Jason may be the leader and our eyes into this story, Billy is the HEART.  I can't stress that enough.  Without the charm that RJ Cyler brings to the role and the movie overall, Saban's POWER RANGERS would seriously be lacking.
In this detention, we also meet Kimberly Hart (Played by Naomi Scott), the popular one minute, brooding loner the next, female lead that unfortunately isn't very well developed as a character, aside from very typical tropes for a teenage girl in a high school setting, see Exhibit A below:
Exhibit A:  
An agreement between new found friends Jason & Billy find them in  Angel Grove's Gold Mine. 
Through a series of events, run-ins and some mild stalking, our 3 already established teens meet Zack Taylor & and Trini Kwan (played by Ludi Lin & Becky G.) , Zack creeping on a spelunking Trini, both wandering the mines to clear their minds.  There may be some deeper meaning at play here, but you're probably not watching this movie for deep meanings, when the stuff on the surface suffice.
Together they discover mystical glowing colored coins while Billy is inexplicably (they may have addressed it in some reference to making his late father proud, but it could have been a little more clear cut, overall forgiven) blasting at the mine.  One car chase and and train accident later;
our rag tag gang of mischievous teenagers are on their way to becoming superheros, experimenting with their new found powers and invoking sequences not unlike that in 'CHRONICLE'.  Jumping gorges that would make Bart Simpson jealous.
It's in these sequences where I noticed how beautifully filmed this movie can be, at times in this mountainous landscape, the lense catches the sun just right and I think I'm in a Terrence Malick film and forget that Aliens, Space Witches and Robots and Dino Robots are not far off.
In exploring these mountains the kids find  a spaceship buried underground and awaken a pudgy, yet versatile Alien Android named Alpha-5, voiced annoyingly but serviceably by Bill Hader.
 Alpha then awakens Zordon, who's essence has been trapped in this sunken vessel and is portrayed very neatly now as a giant Bryan Cranston face that's been pushed through a Classic Pin Art Grid.
After becoming formally acquainted, the teens are introduced to the impending doom they must face through a forced dream sequence that introduces them to Rita Repulsa, the aforementioned villainous Green Ranger and now seemingly Space Witch played rightfully and deliciously over the top by Elizabeth Banks.  She is seeking her Green Crystal coin, that helped make her the Green Ranger and gave her all of the Bryan Cranston smashing power she needs.
But first, after being discovered coincidentally by Jason's father on a fishing boat at the bottom of the sea, she sets out on a crusade for Pure Gold, not only to rejuvenate herself but also to build a giant monster named Goldar, which fans of the show will remember as being this guy:
Who get's an upgrade to look like this: 
Good thing Angel Grove was built around a Gold Mine!
Meanwhile, the Rangers struggle to work together in their training and must find the missing component to allow them to Morph into their new Iron Man-seque armor.  They are put to the test fighting living rock creatures that are known to be Rita's minions.
After numerous failed attempts, Billy finally morphs during a heated argument between Jason and Zack.
The rest of the gang turns to him to find out how,
and HERE is where the movie's true message ends up shining through during this scene; becoming friends.  This movie forces our teens to ACTUALLY & Genuinely become friends and to care about one another to succeed, not just for the sake of their new found abilities and duties in saving the world.
These kids EARN the power that is bestowed upon them and it shows, just as much as these ACTORS earn their roles and hopefully continued success as they've masterfully embodied these characters wholeheartedly.  No one is phoning it in here in this movie and that's pretty awesome for what some may consider to be just a reboot of a silly old kids show from TV.  The bar is raised a bit and you won't even notice because at this point you are too involved and having too much fun.
In the last third of the movie, things pick up the pace and much like this review rushes to the end, so we can get to piloted Prehistorically Based Robot creatures
and it all moves rather quickly leading up to a giant battle in the downtown streets of Angel Grove that will invoke more from VOLTRON
*Required Viewing
We're then treated to a Giant Robot Kaiju smackdown that TOHO PICTURES or Guillermo del Toro would be proud of.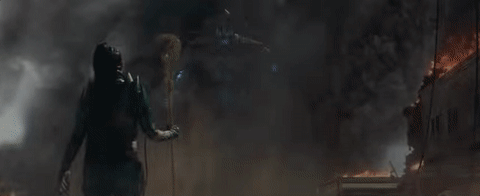 Bottom Line: If you don't have a stick in your butt, go to the theater this weekend, and have some fun and embrace the nostalgia filtered through a 'Dark Knight' lense.